Weather News – Melbourne thinks it's winter, Sydney thinks it's summer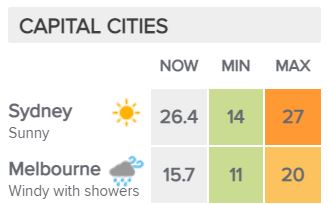 Melbourne thinks it's winter, Sydney thinks it's summer


Anthony Sharwood,

Thursday April 15, 2021 – 16:25 EST

Autumn gonna autumn.
At this time of year, Southern Ocean cold fronts tend to make their presence felt more frequently in Tasmania and southern parts of the Australian mainland.
But the fronts don't often penetrate too far north, clipping the southern coastline while pushing warm northwesterly winds into New South Wales.
That, in a nutshell, is the reason why Sydney was a dry and absolutely delightful 26.4°C midway through Thursday afternoon while Melbourne was sitting on 15.7°C with intermittent showers.
And for the record, Sydney's average maximum temp in January (its hottest…